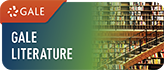 Artemis Literary Sources
Artemis Literary Sources brings together Gale's premier literary databases in a new digital environment that allows researchers, faculty and students to search across these resources to discover and analyze content in entirely new ways. Arkansas Tech has access to:
• Contemporary Authors Online - Provides complete biographical and bibliographical information and references on all of the more than 120,000 U.S. and international authors whose entries appear in Contemporary Authors Online and Contemporary Authors Online New Revision Series. Updated monthly, Contemporary Authors Online allows users to search for an author by name, title of work, nationality, date and place of birth and death, subject/genre, personal and career information, awards and honors, and more.
• Gale Virtual Reference Library - Gale Virtual Reference Library is a database of encyclopedias and specialized reference sources for multidisciplinary research. These reference materials once were accessible only in the library, but now you can access them online from the library or remotely 24/7. Because each library creates its own eBook collection, the content you see may vary if you use the database at different libraries (your school, your public library, or your office).
• Literature Resource Center – LRC - Find up-to-date biographical information, overviews, full-text literary criticism and reviews on more than 130,000 writers in all disciplines, from all time periods and from around the world. The optional MLA International Bibliography module adds citations for hundreds of thousands of books, articles and dissertations from 1926 to the present, linked to full text where available.